We are a small, sustainable farm located on the upper reaches of Johnson Creek, outside of Boring, Oregon. We work hard to bring you fresh, healthy produce from June through March, and to help "fill your cellar" for the remaining months.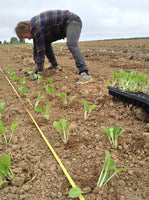 Why Full Cellar?
50+ kinds of vegetables grown just for you. All year long, we're selecting and growing varieties to make sure you have the freshest and most delicious produce to work with in your kitchen.
Sustainability focused. We are Certified Organic and Salmon Safe by Oregon Tilth, so you can feel good knowing your farmers have a strong commitment to protecting our little piece of Earth.
Free recipes from Cook With What You Have. Get inspired and learn to improvise with this premiere CSA recipe collection.
Our farm is your farm. Whether you're visiting the farm for an event, reading our newsletters, or following us on social media, you'll feel good knowing where your food really comes from.
Testimonials
We have loved being a part of the Full Cellar Farm CSA for a few years now. Not only do we get staples in both our summer and winter shares, but we are also offered veggies which are new to us. In that way, we are coaxed just a bit out of our recipe ruts.

Nathan & Allison Y.
It's neat to be able to talk to our 3-year-old about our veggies, and who grows them, and why it's better to get them from Farmer Emily than the grocery store.

Lindsay G.