Our Farm
Full Cellar Farm was started in 2014 in Gresham. Since 2019, we've been stewarding 6 acres of mostly south-facing land near the headwaters of Johnson Creek, and within sight of beautiful Mt. Hood.
Both the mountain and the creek inspire us during our long work days, and serve as a constant reminder about who we're privileged to be sharing our land with. We work towards our vision of a creek full of lamprey and beavers, a mountain white with snow to carry us through the summer, and a farm where all of our members feel welcome and well fed.
For our stance on social justice, please see our Anti-Oppression Statement.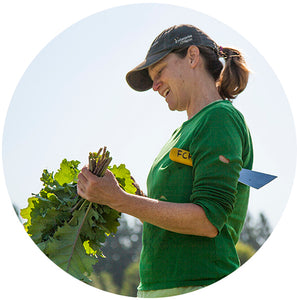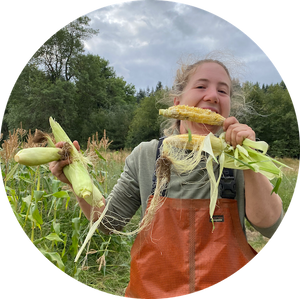 Emily Cooper has been farming since 2008, when she found her calling during an apprenticeship at Backyard Gardens in Joseph, Oregon. She feels that farming is the perfect balance between art and science, and she loves that she never stops learning. She started her farm at the Headwaters Incubator Program, where she shared space, equipment, and ideas with farmers from more than a dozen other small, sustainable farms. Now she's farming right next door, on property leased from East Multnomah Soil and Water Conservation District. In the rare moments when she isn't farming, Emily loves cooking and preserving food, trail running, and reading.
Rachael Crane is an Ohio transplant who has lived in Portland since 2015. After graduating from Ohio State University with a degree in Wildlife Management, Rachael received an internship at an educational farm. It was there she discovered her love for growing and sharing food. Since moving to Portland, Rachael has worked at a variety of different farm operations from an alpaca ranch and blueberry patch to a small urban CSA market garden. 2020 will be her second season with Full Cellar, and she's excited to be starting her own flower farm there. When she's not farming, Rachael can be found hiking, climbing, and cuddling all shapes and sizes of chihuahuas.
Julia Stone was born and raised in Seattle and has been happy to call Portland home since 2018 after stints in Austin, TX, and Walla Walla, WA. She discovered farming through her life-long love of food, cooking, gardening and her work in the service industry. She joined the Full Cellar crew in 2022 after seven years working in direct service roles across government and nonprofits. Off the farm, you can usually find her hitting the trails with her faithful hound dog or curling up with a good book.
Amy Wooley is a Kentuckian who moved west to Oregon in 2019. She developed a fondness for food as a youngster, and cooked her way through her twenties in various professional kitchens. In 2020 she decided to pursue farming as a way to unify her passions for food and nature. Bringing people together through the shared joy of food, and serving the greater needs of our earth's ecosystems are what motivate her to be a good land steward. When she's not farming she is most likely tinkering in her kitchen, working on artsy projects, or watching professional wrestling.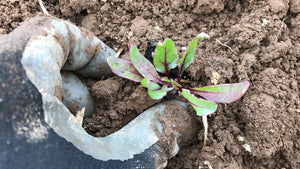 Full Cellar Farm is Certified Organic and Salmon Safe by Oregon Tilth. Some of our sustainable practices include:
  • We never use synthetic fertilizers or pesticides, or any inputs that aren't approved for use in organic agriculture.
  • We buy organic seed whenever possible, and we never buy treated or genetically modified (GMO) seed.
  • We limit our use of plastics, especially in the field, and when we do purchase plastic we try to use it for as many seasons as possible.
  • We plant cover crops to protect the soil from compaction and erosion, and provide habitat for native insects, birds, and wildlife.
  • We use drip irrigation and microsprinklers to conserve water and reduce soil erosion and weed pressure.
  • We practice crop rotation to keep the soil healthy and thriving, and to reduce pests and diseases in our crops.
  • We follow recommended food safety practices to ensure our food is harvested, washed, and packed in a clean and efficient manner, and use only cleaners and sanitizers that are approved for organic agriculture.
  • We take care of our employees by offering competitive wages, paid overtime, and paid time off, as well as prioritizing practices that protect worker health and safety.